Concepts for Australia's first fully integrated Arts Village have been launched by the Brisbane team behind The Paint Factory at Yeronga.

Originally proposing a residential redevelopment of the old redundant industrial site, the new plans propose an exciting mixed-use environment where people will be able to work, visit, live and relax within a world-leading arts village, while retaining some of the industrial character.
The plans follow extensive community engagement and input from members of the arts community who already have established studios in the complex. Richard Bell, Judy Watson, Vernon Ah Kee, Ryan Presley, Gordon Hookey, Dale Harding, Sandra Selig, Ross Manning, Tintin Wulia, Eugene Carchesio and Natalya Hughes are among leading Australian artists who are already calling The Paint Factory home and have been at the forefront of the new direction of the Arts Village.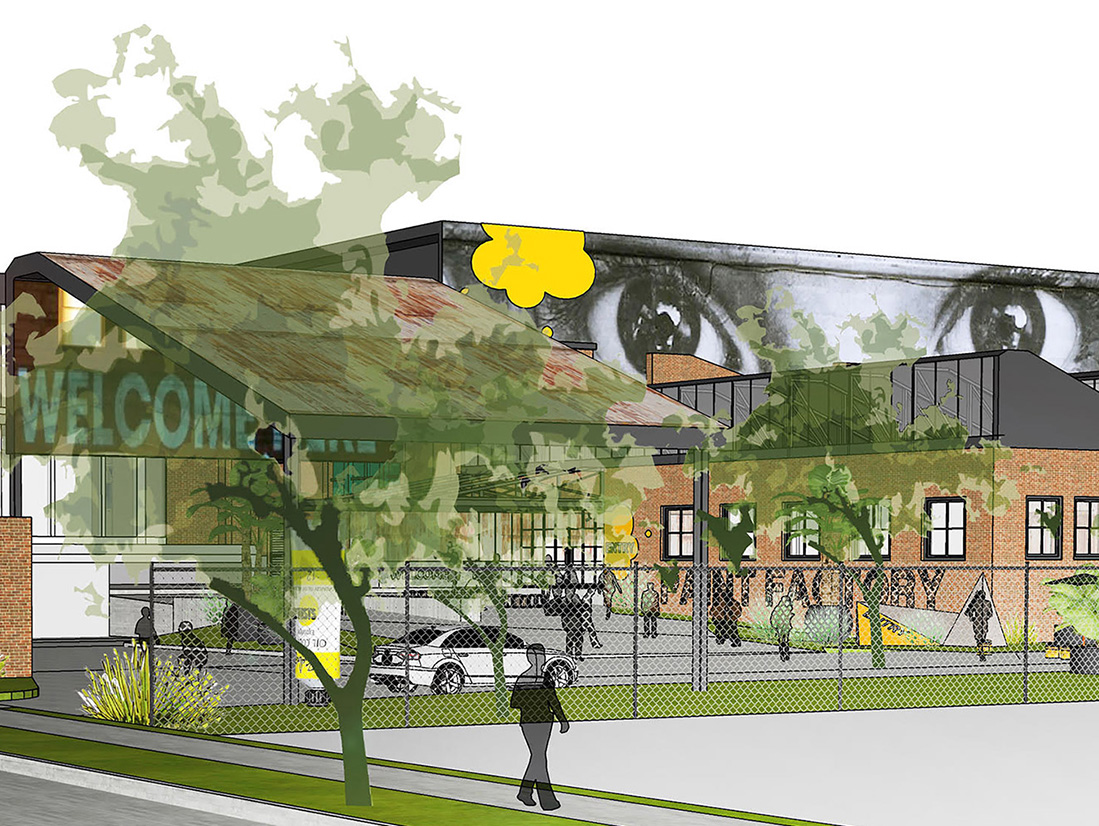 Local project manager Paul Hey, who has lived in Yeronga for more than 20 years, is leading the team working on transforming the buildings at 115 Hyde Road, Yeronga, which was home to the Taubmans paint factory from 1952 to 2015.
"While discussions have been taking place with council and the community over recent years, the warehouse-style buildings of The Paint Factory have been used by local and international visual artists to create their work and meet with like-minded creatives," Mr Hey said.
"This initially temporary use has, over the past 4-5 years, organically grown and the Arts Village concept will build on that arts community which already calls The Paint Factory home.
"The Paint Factory Art Village will be the first of its kind for Australia and we are thrilled to be developing an integrated space for a range of artistic and creative endeavours in an open and industrial setting, with architecturally designed residences and communal spaces.
"We plan to create a permanent address that features artists, art galleries, event space, artisans, a micro brewer, coffee roaster, pop-up fresh produce and an artisan market, community, educational facilities, visual artists and other creative professionals, living and working on the site alongside stunning homes, artists-in-residences and large areas of landscaped open space."
Further inspiration has been gleaned from national and international leading developments and collectives that have re-imagined and energised redundant land uses, including Germany's Alte-Spinnerei, the Abbotsford Convent in Victoria, Wynwood Walls (Miami, USA) and Brisbane Powerhouse.
"Artworks created on the site have been exhibited and sold nationally and internationally, as well as featuring in the collections of some of the world's most prestigious galleries, including the Tate Modern (UK), the Art Institute of Chicago (US), The National Gallery of Canada and The National Gallery of Australia," Mr Hey said. "When I heard that two videos had been specially commissioned and shot on site at The Paint Factory by the Tate Modern of London, I knew these artists were onto something."
Ryan Presley has been using studio space at The Paint Factory since 2017 and said he had been inspired by sharing a creative space with like-minded people.
Ryan's visual art pieces, which comment on social issues, are included in collections and exhibitions throughout Australia, the US, China, Palestine, Japan and the Netherlands and he has been the artist-in-residence at the Tweed Regional Gallery and Cicada Press's Indigenous Residency Program.
He said having a studio at The Paint Factory had been a major benefit to his work.
"Due to the number of artists working at the site there is an informal collective dynamic, where we can bounce ideas off each other and support studio experimentation," he said.
"Having studio space at The Paint Factory has been a critical element in the successes and career development I have experienced in recent few years.
"It's always good to share space with other artists as we can see what other people are working on, share ideas and get feedback.
"I'm excited about plans for the future of The Paint Factory because there isn't another space like it and international curators who have visited the studios tell us that it stands out, even compared to places in Europe."
Fellow artist Gordon Hookey has used the inspirational spaces of The Paint Factory for four years and says the creative atmosphere has definitely helped him with his work.
Mr Hookey belongs to the Waanyi people and is a core member of Brisbane-based Indigenous collective proppaNOW. His works are held in major Australian collections including the National Gallery of Australia, Queensland Art Gallery, the Art Gallery of Western Australia and a number of significant private collections.
"Apart from the benefits of having a large space to work in, being at The Paint Factory has enabled me to be part of a creative community and to share thoughts and ideas with other artists," he said.
"At any time there can be five or six artists working here and it is great to be able to wander through each other's spaces and see what they are doing, stop and have a yarn and get feedback on our work.
"It's a good feeling to be able to mix with other creative people and I am looking forward to that continuing."
"Through The Paint Factory, Brisbane has the opportunity to become an essential Australian destination for arts professionals and interested community members, rivalling Melbourne and Sydney," Mr Hey said.
The team behind The Paint Factory have withdrawn their original residential Development Application with Brisbane City Council and will draw on feedback received during the community consultation process to lodge a new and revitalised application that includes a Change of Use from the current zoning of industrial to one of mixed use.
The plans for The Paint Factory Arts Village will draw on the existing industrial buildings for the artistic component of the village and will also include a diversity of residential uses spread throughout for artists and other residents alike.
For more information please visit thepaintfactory.com.au or call 1800 962 011.