Over recent years, a community of local and international visual artists have organically connected and made The Paint Factory their home to create their work.
Those who have studios at The Paint Factory are leading artists and their artwork created on site has been exhibited and sold nationally and internationally, as well as featuring in the collections of some of the world's most prestigious galleries, including the Tate Modern (UK), the Art Institute of Chicago (US), The National Gallery of Canada and The National Gallery of Australia.
The unique nature of the area has been both an inspiration and an opportunity for artists to gather and discuss and create art. The site is often used for educational purposes and has had guests from all around the world attend these sessions.
The Paint Factory has also become one of Brisbane's most sought after filming locations and settings for artists, musicians and producers to tell stories and bring their artistic visions to life.
Our vision is to continue to encourage and facilitate the use of The Paint Factory as a place of creativity and ensure that it remains a hub for community-based activity.
CURRENT MEMBERS OF OUR ARTS COLLECTIVE ARE:
VISUAL ARTISTS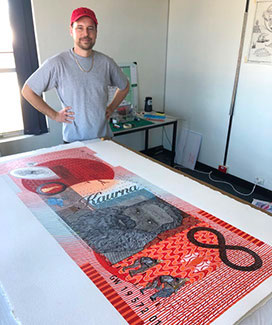 RYAN PRESLEY
@r.j.presley
Ryan has been using the studio space at The Paint Factory since 2017, working on his visual art pieces which comment on social issues. Ryan's work is included in collections and exhibitions throughout Australia, the US, China, Palestine, Japan and the Netherlands and he has been the artist-in-residence at the Tweed Regional Gallery and Cicada Press's Indigenous Residency Program. Ryan said having a studio at The Paint Factory had been a major benefit to his work. "Due to the number of artists working at the site there is an informal collective dynamic, where we can bounce ideas off each other and support studio experimentation," he said. "Having studio space at The Paint Factory has been a critical element in the successes and career development I have experienced in recent few years."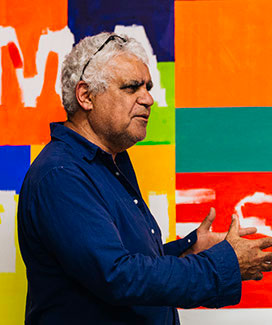 RICHARD BELL
www.richardbellart.com
Richard has had a studio space at The Paint Factory since 2016 and has had his work exhibited in the US, Russia, Ireland, England, Taiwan and throughout Australia. Richard uses painting, installation art, video and text in his work, which is designed to provoke thought and awareness around issues impacting indigenous communities. Of the opportunity to work at The Paint Factory, Richard said: "As a Brisbane-based artist, it is essential to have a place I can go to work which I know I can make my own and has the energy and ambience which helps to inspire creativity. Being at The Paint Factory offers me exactly that."
SANDRA SELIG
@sandra_selig
Using a range of media, including works on paper, video, light and sound, Sandra creates subtle works from everyday materials such as paper, string, sewing thread and phosphorescent paint. Sandra has been creating her work at The Paint Factory for a number of years and has been exhibiting widely in Australia since 2000. Her work is held in several Australian public art collections and she has been awarded two major artist-in-residence programs. The first, in 2004, took her to the Guernsey College of Further Education in Great Britain and the second to the Australia Council Studio in Japan in 2008.
JUDY WATSON
@judywatsonartist
Judy is a fascinating multi-media artist who works in printmaking, painting, video and installation and has been using the studio space at The Paint Factory to create her works since 2016. Judy's link to the country of her ancestors has always been central to her printmaking and painting and the hidden histories of indigenous people on the colonial frontier – particularly those of women – continue to inspire her. She has been exhibiting internationally for 20 years, including Europe, Britain, North America and Asia.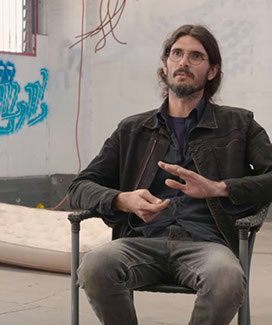 D HARDING
@daleharding
D works with a variety of techniques and traditions including painting, installation and sculpture. D has been working from The Paint Factory for a number of years and his work is informed by his heritage, in terms of both an oral history tradition and the artistic techniques he has inherited. Stenciling forms a core part of his art, allowing him to perform the same techniques undertaken by his ancestors.
TINTIN WULIA
@tintinwulia
Tintin divides his time between Brisbane and Gothenburg, Sweden, and has been using the space at The Paint Factory for a year. Tintin has exhibited in major international exhibitions including Istanbul Biennale (2005), Yokohama Triennale (2005), Asia Pacific Triennale (2012), Sharjah Biennale (2013) and Jogja Biennale (2013). In 2017 she represented Indonesia in the 57th Venice Biennale with her solo project 1001 Martian Homes. Her works are held in public and private collections including in the Van Abbemuseum, Singapore Art Museum, Queensland Art Gallery/Gallery of Modern Art and He Xiangning Art Museum.
NATALYA HUGHES
@nattywhos
Natalya has worked from The Paint Factory for several years, deconstructing, reconfiguring and rewriting figurative images to form partially abstracted and highly patterned psychological worlds. Her work has been included in major exhibitions at spaces including the Tarrawarra Museum of Art, Victoria (2006), Ian Potter Museum of Art, Melbourne (2009), Queensland University Art Museum, Brisbane (2010) and Gallery of Modern Art, Brisbane (2012) and is held in notable collections such as Artbank and the Queensland Art Gallery.
GORDON HOOKEY
Gordon locates his art at the interface where Aboriginal and non-Aboriginal cultures converge and has used spaces at The Paint Factory for several years. He is a core member of Brisbane- based indigenous collective proppaNOW alongside fellow artists such as Richard Bell, Vernon Ah Kee and Jennifer Herd. Gordon's work is held in major Australian collections including the Queensland Art Gallery/Gallery of Modern Art and University of Queensland Art Museum in Brisbane, the Art Gallery of Western Australia in Perth, the National Gallery of Australia and Australian National University in Canberra, the National Gallery of Victoria in Melbourne, the University of Technology in Sydney and a number of significant private collections.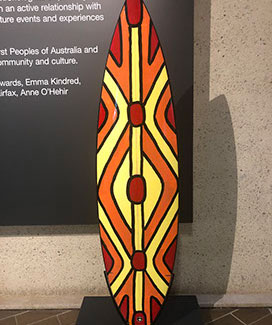 VERNON AH KEE
@waanjiman
Vernon's works range from large-scale drawings of his ancestors to hard-hitting text-based works and installations. Through clever puns and plays on words and objects, he fuses the history and language of colonisation with contemporary black/white political issues to expose degrees of underlying racism in Australian society. Vernon represented Australia at the 2009 Venice Biennale and his selected group exhibitions have been staged at the 14th Istanbul Biennial (2015); the National Gallery of Canada, Ottawa (2013);  Queensland Art Gallery/Gallery of Modern Art, Brisbane (2013) and the National Gallery of Australia, Canberra (2012). Vernon has staged a number of solo exhibitions and his work is held in private and public collections in Australia and overseas, including the Sprengel Museum Hannover, Germany; National Gallery of Canada, Ottawa; National Gallery of Australia, Canberra; National Gallery of Victoria, Melbourne; Art Gallery of Western Australia, Perth; and Queensland Art Gallery/ Gallery of Modern Art, Brisbane.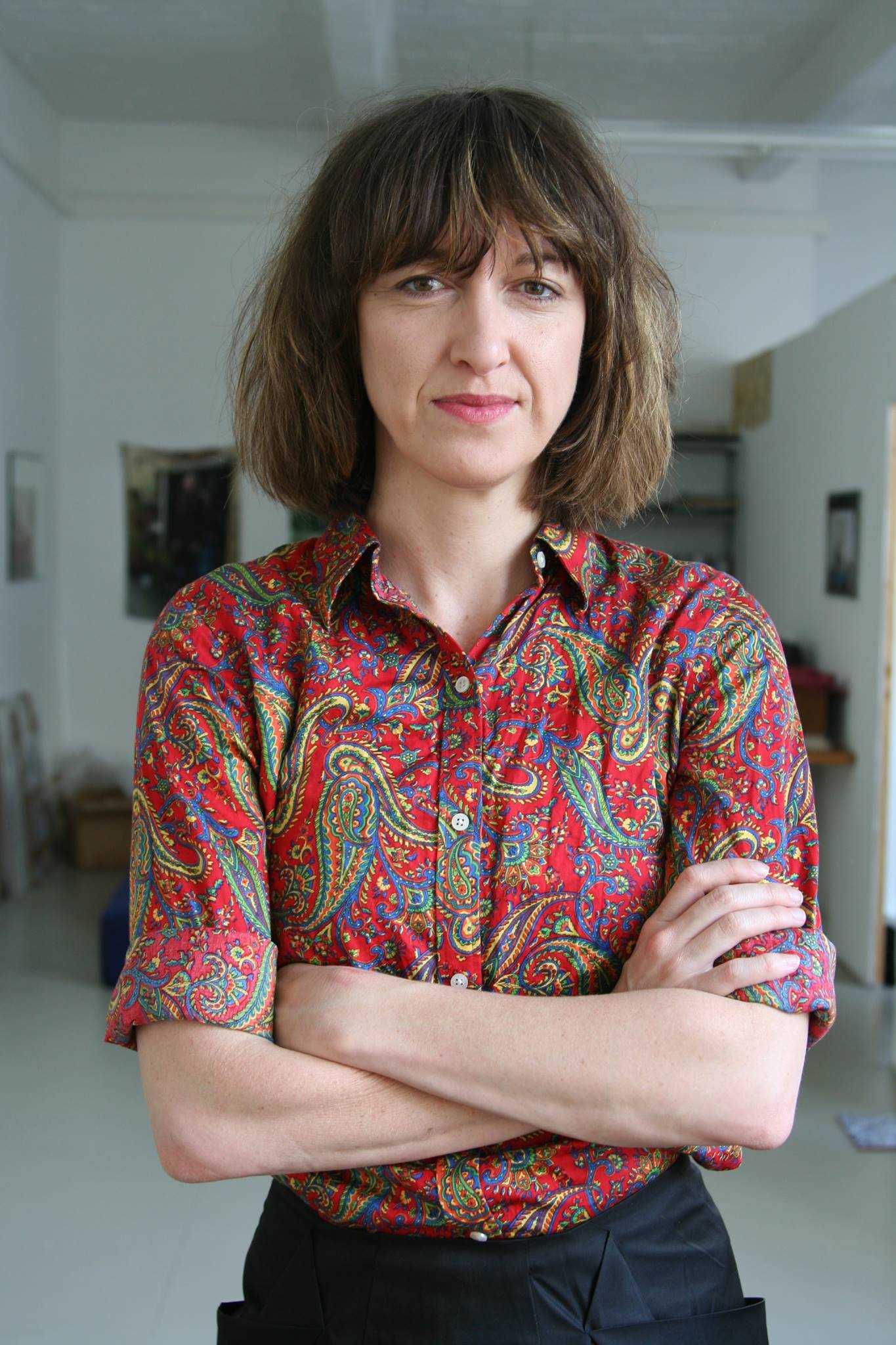 RACHEL O'REILLY
www.racheloreilly.net
Rachel is an artist, poet, critic, independent curator and researcher whose work explores relationships between art and situated cultural practice, media and psychoanalysis, aesthetic philosophy and political economy. From 2004-08 she was a curator of film, video and new media at the Gallery of Modern Art, Brisbane, including the Fifth Asia Pacific Triennial of Contemporary Art. From 2013-14 she was a researcher in residence of the Jan van Eyck Academie, NL. Her ongoing artistic research project The Gas Imaginary, explores the speculative linguistics and dispossessive install of 'unconventional extraction' investments in settler colonial space. She is currently completing a chapbook of poems, Rue Methanic, researching a project on "Neutrality" in Non-Aligned Movements vs Contemporary Art with Jelena Vesic, and Series Editor of the Labin Imprint of artist and artistic research books.
ROSS MANNING
www.rossmanning.com/
Ross Manning is a Brisbane-based artist and musician. Over the past decade, Manning has developed what could be described as his own world, animated by light and sound. He is an obsessive creator of systems that are driven by their own logic, and of moving objects propelled by electricity and their own kinetic forces. This is a sculptural practice with a totalising scope and vision: just as it appears to consume all manner of household and industrial objects, hardware, and technologies, so it harnesses visible and audible frequencies. It then uses those same energies of light, sound, and motion to colonise nearly every surface and wavelength in its vicinity.
EUGENE CARCHESIO
Brisbane artist Eugene Carchesio has been showing his constructions, collages and watercolours since the early 1980s. In an age of brash biennale art, his work is usually distinguished by its modesty of scale and material, its intimacy and ephemerality. Seeking to express the spiritual interconnectedness of all things, Carchesio combines iconographies drawn from early modernist abstraction and other faiths to ponder our relation to nature and the cosmos.
BEC MAC
Bec Mac and her LoveTV studio resides at The Paint Factory studios. Bec is an artist, creative producer, presenter and arts journalist whose work includes digital content creation, radio presenting, producing and curating live art events, social media marketing management and painting. At the core of Bec's artist work is unifying communities through creative conversations and experiences. Her LoveTV live exhibition has presented Internationally in partnerships with multiple City Councils including the City Of New York, City of Sydney and Brisbane City Council.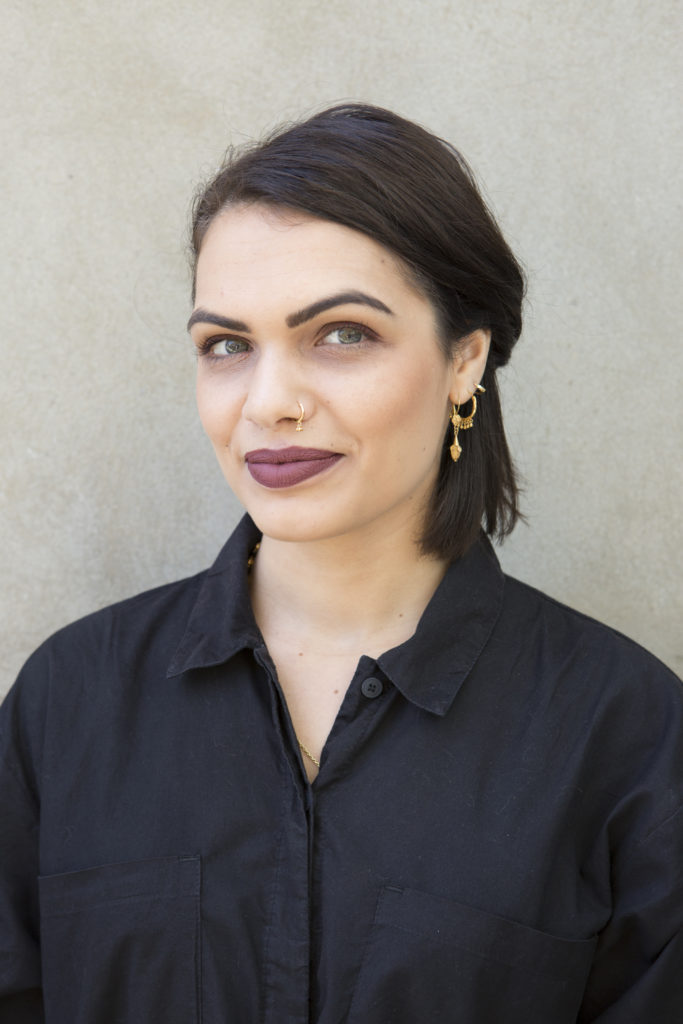 SANCINTYA MOHINI SIMPSON
@sancintya
Sancintya Mohini Simpson is an artist and researcher who has just recently joined The Paint Factory artist community. She is a descendent of indentured labourers sent to work, from India to South Africa, on colonial sugar plantations. Her work navigates the complexities of migration, memory and trauma through addressing gaps and silences within the colonial archive. Simpson's work moves between painting, video, poetry and performance to develop narratives and rituals. Her practice is grounded in collaboration and community engagement, connecting wider narratives surrounding descendants of indenture and their diaspora communities.
CHRISTOPHER BASSI
@christopher_bassi
Christopher Bassi is a painter, designer and Principal in Art & Design with Blaklash Creative. His specific focus is on the intersections of placemaking, arts practice, and designing for social outcomes. Chris is skilled at determining culturally appropriate methodologies for embedding First Nation's experience and agency into the built environment.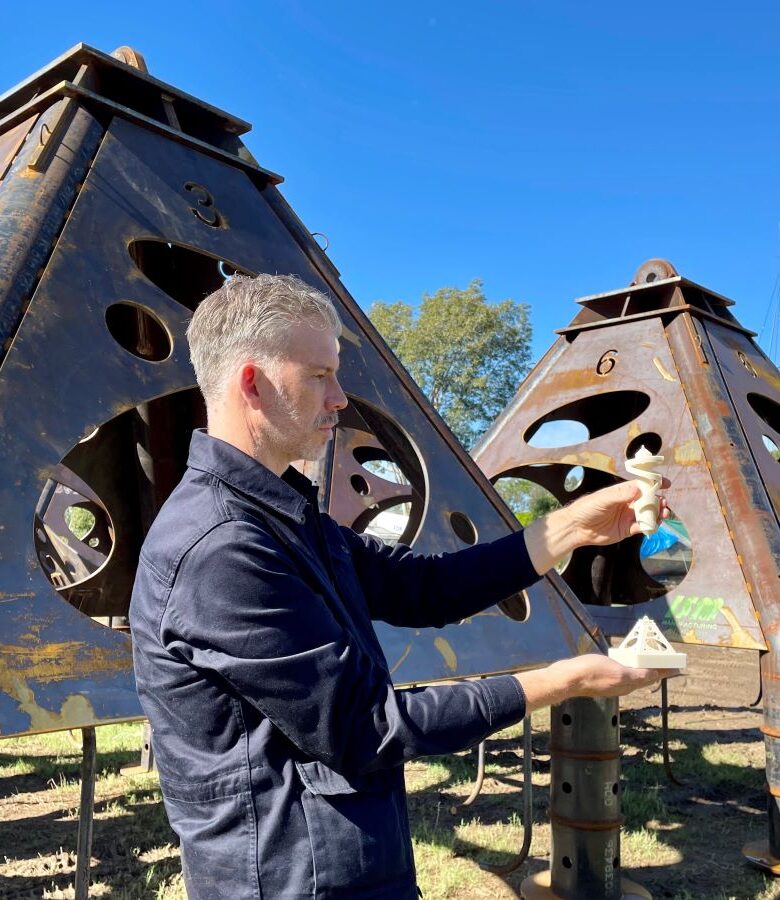 DANIEL TEMPLEMAN
@daniel_templeman_art
Daniel is the genius behind some of Australia's most iconic public art commissions, including the Brisbane Magistrates Court, Tugun Bypass, Southbank Educational Precinct, 31 Queen Street, Melbourne and most recently the Macrossen Tower in Brisbane's CBD. His art practice explores notions of both, perception and connection. 
MANDY QUADRIO
https://www.mandyquadrio.com.au/about/
Mandy Quadrio creates a body of work that spans across sculpture, installation, photography and mixed media and assert a living and dynamic culture. As a proud palawa, Tasmanian Aboriginal woman with strong connections to her maternal ancestral home of tebrakunna, and the Oyster Bay Nation of eastern Tasmania, her art practice seeks to bring attention to historic, cultural and political events that have been ignored or buried by colonial histories.
PERFORMING ARTISTS