The Paint Factory has organically become one of Brisbane's most sought-after filming locations and settings for artists, musicians and producers to tell stories and bring their incredible and vibrant artistic visions to life.
More than a dozen musical artists have already chosen to film their music videos in the surrounds of The Paint Factory. They include:
Jesswar
Clovo
Nerve
Hope D
Empire Within
Cub Sport
The Swish
Off-Purp
Siala
It has been a joy to see how different artists and videographers have interpreted and transformed The Paint Factory as a backdrop for their unique vision.
Welcoming creatives into our precinct is just one way that we actively support our local arts community.
We also recently worked with Brisbane City Council's 'The Qube Effect' program, an initiative that platformed 24 of Brisbane's freshest young musicians. Mentored by some of Brisbane's most influential music industry experts, the musicians developed their skills in publicity, copyright and live stage performance. Each finalist had the opportunity to film their own live music video for thousands of people to watch and vote for in the People's Choice Award.
The majority of finalists chose to film their music videos at The Paint Factory. It's such a huge privilege to be part of their journey in the music industry.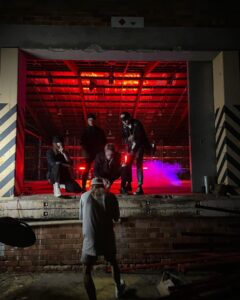 The full spectrum of performing art groups have flocked to our industrial space to rehearse stunts, produce short films and host live shows.
Our expansive spaces provide a great environment for theatrical artists to perfect their craft ahead of performances and to host live audiences.
Ahead of the world premiere of 'Demolition' at the Brisbane Festival, performance group Polytoxic was featured on ABC Artworks, practicing their physical feats and daring aerials at The Paint Factory.
We are now looking forward to again sponsoring and hosting a series of performances for the Brisbane cult favourite Anywhere Festival. Stay tuned on our social media platforms for the reveal of our exclusive concerts!
Watch the video below to see the full scope of works created within our walls.
Video created by Onyx Film (@onyx.film).
We encourage all members of the Brisbane community to reach out via our website to enquire about how we can support any upcoming projects.
Want to view the full videos of the artistic work produced at The Paint Factory? All are linked below:
The QUBE Effect Artists:
Charlotte Marnee
Patient Lounge
Dusty
Maisy Taylor
Andy Martin
NXT